How to undo dismiss/retrieve reminders in Outlook calendar?
Let's say you dismiss all reminders in the Reminders Window by mistake in Outlook, and you want to undo dismiss the reminders, is there any way to retrieve them? There is no built-in feature to retrieve dismissed reminders in Outlook, but this article will introduce some tricks to solve the problem in a roundabout way.
Kutools for Outlook: 20+ New Advanced Tools for Outlook.
Office Tab: Enable Tabbed Editing and Browsing in Office, Just Like Chrome, Firefox, IE 8/9/10.
Classic Menu:

Bring Old Menus and Toolbars Back

to Office 2007, 2010, 2013 and 2016.
---
Undo dismiss/retrieve one reminder in Outlook calendar
If you want to retrieve one reminder for a specified calendar items, you can add reminder for this calendar items again in Outlook. Please do as follows:
In the Calendar view, (1) click to select the specified calendar item whose reminder you will undo dismiss to activate the Calendar Tools, and then (2) choose a new reminder from the Reminder drop down list in the Options group. See screenshot: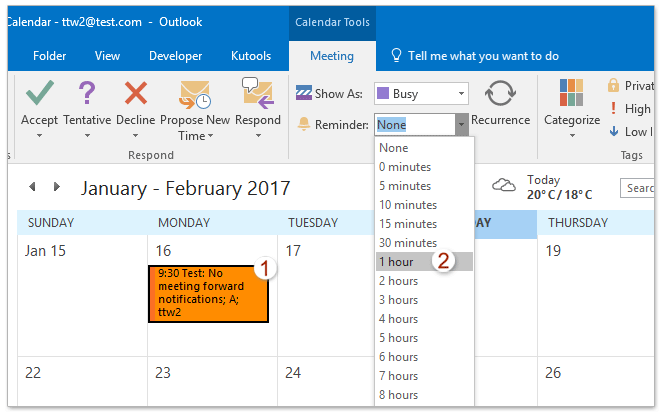 ---
Undo dismiss/retrieve multiple reminders in Outlook calendar
If you want to retrieve multiple dismissed reminders in an Outlook calendar, you need to add the Reminder column into the calendar folder, and then quickly add reminder for each calendar item with one click.
1. In the Calendar view, select the specified calendar folder where you will retrieve multiple dismissed reminders, and click View > Change View > List. See screenshot: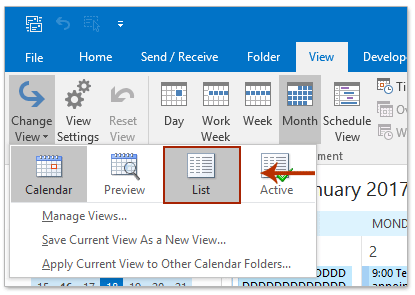 2. Go ahead to click View > Add Columns. See screenshot:

3. In the Show Columns dialog box, please do as below screenshot shown:
(1) Select Reminder in the Available columns list box;
(2) Click the Add button;
(3) Keep the Reminder column selected in the Show these columns in this order list box, and click Move Up or Move Down button to change its order;
(4) Click the OK button.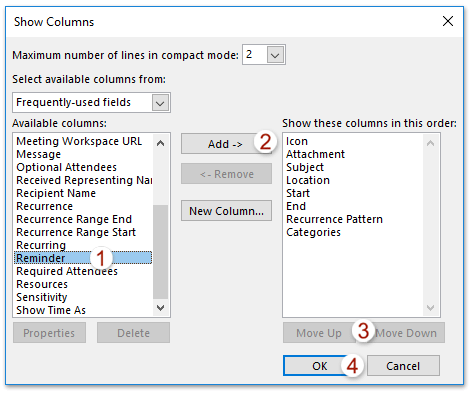 Now, return to the calendar folder, and you will see the Reminder column is added in the folder.
4. Type the search criteria modified: today into the Instant Search box to quickly find out all calendar items which are modified today.

5. And now click each cell in Reminder column to add reminder for every found calendar item.
Note: This method will add default reminders to all calendar items modified today.
---
Related Articles
---
20+ Powerful Tools and Features for Outlook 2010 / 2013 / 2016 / Office 365:

Compatible with Outlook 2010 / 2013 / 2016 / Office 365 (32/64);


Compatible with Windows XP, Windows Vista, Windows 7 / 8 / 10, Windows Server 2003/2008, Citrix System and Windows Terminal (Remote Desktop) Server;

Free trial without feature limitation in 45 days!