Easily reading / viewing a large number of rows and columns in Excel
There may be a lot of rows and columns in your worksheet, and it is difficult for you to check for formulas or data in such a huge worksheet. But with Kutools for Excel's Reading Layout utility, which makes it easier to check for data by highlighting the row and column of the active cell as follows: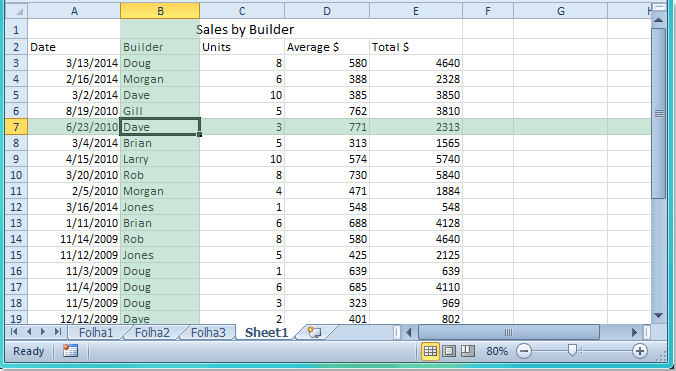 ---
How to highlight active cell row and column:
You can select one cell or a range of cells in your worksheet, and click Kutools > Reading Layout > Reading Layout to enable this Reading Layout utility. And the entire columns and rows of the selected cells are highlighted intuitively. See screenshots:
Enable Reading Layout: click to this option to enable or disable the Reading Layout.
Reading Layout Settings: click on this option to configure the settings of the Reading Layout in the Reading Layout Settings dialog box. See screenshot:
---
Notes:
1. You can cancel this utility by clicking the Reading Layout command.
2. If you open multiple Excel files, this Reading Layout feature is applied to all of them.
3. This Reading Layout will not enabled automatically when you launch the workbook next time.
---
Productivity Tools Recommended
The following tools can greatly save your time and money, which one is right for you?
Office Tab
:
Using handy tabs in your Office
, as the way of Chrome, Firefox and New Internet Explorer.
Kutools for Excel
:
More than 200 Advanced Functions for Excel
2016, 2013, 2010, 2007 and Office 365.
Classic Menu for Office
:
Bring back familiar menus to Office
2007, 2010, 2013, 2016 and 365, as if it were Office 2000 and 2003.
---
The functionality described above is just one of 200 powerful functions of Kutools for Excel.
Designed for Excel(Office) 2016, 2013, 2010, 2007 and Office 365. Free download and use for 60 days.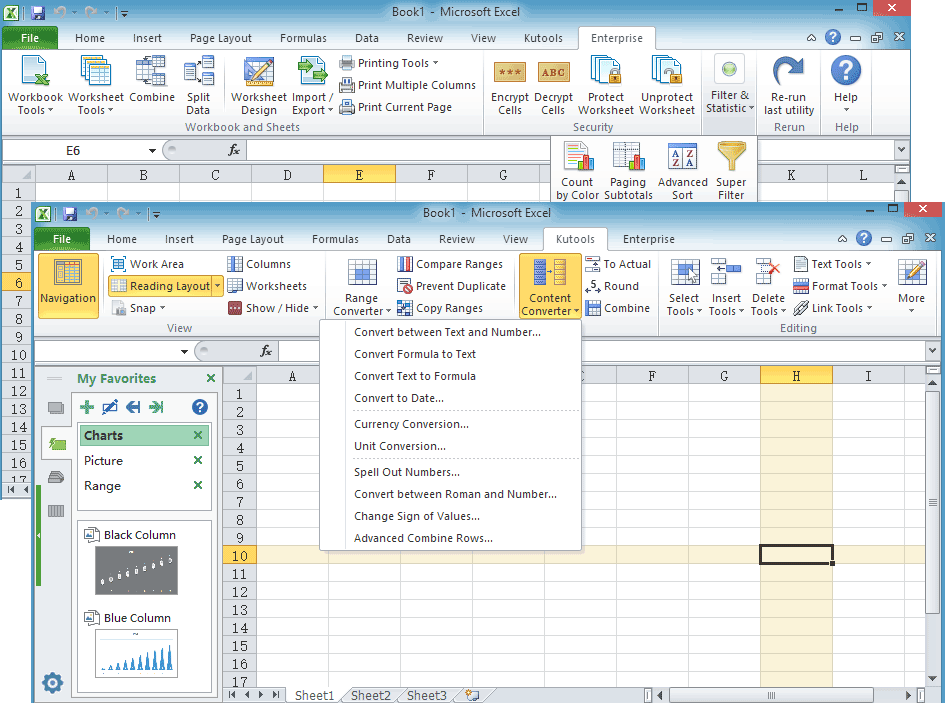 or post as a guest, but your post won't be published automatically.
Loading comment...
The comment will be refreshed after

00:00

.
To post as a guest, your comment is unpublished.

My OS: Windows 7 Pro fully updated
My Excel: 2010
My sheet: Range R1C6:R504C6 is in use

PROBLEM: READING LAYOUT FAILS TO FILL ROW AND COLUMN SELECTED

1. Magnification: 60%
2. Rows 313-355 show
3. Cell R354:C6 selected
4. Column 5 fills to row 323. Row 354 no fill
5. Mag to 50%
6. Rows 311-357 show
7. Column 5 fills top to bottom. Row 354 fills left to right
8. Mag to 60%. Goto 4.
9. Mag to 70%.
10. Rows 319-354 show
11. Column 6 fills to row 325. Row 354 is empty.
12. Click R354:C6
13. No change!
14. WHY?

NOTE: At 60% magnification selecting any cell on visible sheet on rows greater than 323 demonstrates same problem.
Selecting row 323 or lower i.e R320 the function works as expected with row and column selected but only to
row 323!

To post as a guest, your comment is unpublished.

Hi.
Thank you for a good product.
I am using reading layout at the moment but it only highlights in some parts of the spreadsheet. If I move the cursor further the highlights disappear.

I am using Windows 8.1 and Office 2013.
Also I am filtering the spreadsheet to look at certain rows.

Thank you for your assistance with this.

I am entering data in another program and need the highlight option.